12 Ill-Conceived Attempts to Smuggle Drugs Across the Border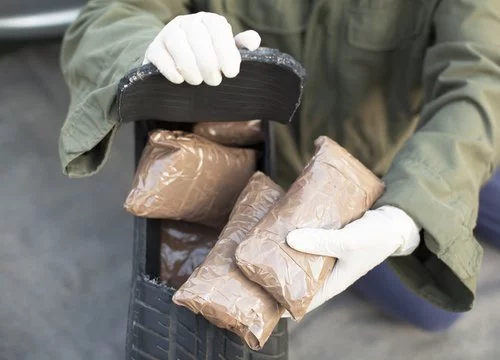 Federal drug charges are not something you want on your record.
Roughly 1,954 miles of desert hardscrabble separate the United States of America and Mexico and it is the busiest border crossing in the world. It stretches along the southern-most portion of four States in the U.S.; California, Arizona, New Mexico and Texas. On the Mexican side, there are five states along the border; Sonora, Chihuahua, Coahuila, Nuevo Leon, and Tamaulipas.
Over one million people cross this border each and every day, because of business or pleasure. Although most crossings are legitimate, the United States CBP (Customs and Border Patrol) estimates that there are nearly 720,000 illegal attempts each year. Only about half of these get apprehended.
There are six major crossing points patrolled by the CBP. They estimate that since 2009 they have seized:
85,479 lbs of marijuana
4,180 lbs of cocaine
2,977 lbs of methamphetamine
400 lbs of heroin.
Because of the sheer number of crossings and the state of the drug problem on both sides of the border, it's no surprise that as a result, there are so many crazy stories about unsuccessful attempts at drug trafficking.
Let's Look at 12 of Fastest Ways to Get Federal Drug Charges:
1. Going for a Stroll with the Kids
On December 17, 2009, CBP Officers at the San Ysidro Port of Entry apprehended woman attempting to smuggle NINE POUNDS of Marijuana in her child's stroller. I'm sure that drug crimes weren't the stroller manufacturers intended use for those "Convenient Storage Compartments."
2. The 'Grass is Always Greener.'
During what should have been a routine stop, a landscaping crew was busted smuggling several pounds of Marijuana stashed inside the reels of gardening hoses. I'll give them points for creativity, but I'm sure that's not the way it is intended to be 'rolled.' And if the hose reels weren't crazy enough, they also used the underside of lawnmowers! That's one way to 'cut the grass.'
3. Soccer Moms on a Day Trip
The CBP stopped two women in a Dodge minivan traveling through a border checkpoint with their kids. Authorities discovered over 166 lbs. of Marijuana stashed in the various convenience compartments in the back of the van. "Honestly officer, those aren't mine!" Nothing like a little day trip with the kids smuggling drugs over the border, however, this one surely ended with both being brought up on federal drug charges.
4. Surf's Up, Dude
In 2009 a Mexican man was apprehended trying to surf to shore smuggling 24lbs. Of Marijuana hidden in his surfboard.
5. That's a Lot of Clams
In 2011 CBP officers busted a 26-year-old man who had stashed 150 grams of Cocaine inside the hollow, empty shells of 15 salt-water clams. Do you think he came clean? I bet when they questioned him, he 'Clammed' up.
6. Is a Picture Worth a Thousand Dollars?
A man was busted attempting to smuggle Methamphetamine that had been compressed and formed into the shape of fine art sculptures.
7. Happy Pants
This particular method of smuggling has been tried a time or two, but never as elaborate as in this case. A young man was busted attempting to smuggle heroin across the border sewn into hundreds of little 'pockets' on the inside of his pants.
8. Head of the Class
A young man was wearing a wig with a skullcap of cocaine tucked neatly between his scalp and the inside of the hairpiece. I'd venture to say that's no way to get 'ahead' in life because as a result, he is facing drug trafficking charges.
9. What's up, Doc?
CBP officers seized a truckload of carrots on the U.S.-Mexico border. However, as it turns out, nearly half of them were packages wrapped in orange tape intended to pass for carrots. They had filled them with nearly a ton of marijuana. Bugs Bunny would have been ashamed.
10. Sweet Treats
Officials stopped a Guatemalan man with hundreds of packages of Vanilla Wafers. At first, officials thought he just had a horrible sweet tooth. The inspected the cookies more closely and discovered that he had replaced the cream filling with cocaine. He was also carrying bags of chips with small packets of the drug inside of them.
11. That's a Lot of Guacamole
Vegetables are clearly a common choice because they've also stopped a truck carrying avocados at the border. They hollowed out the vegetables and filled them with cocaine. The carrot trick failed, so they had to try another way!
12. Easter Egg Hunt
Although not at the Mexican Border, this attempt deserves mention. U.S. Immigrations and Customs arrested a Miami man at Los Angeles International Airport on Christmas in 2010. Customs officials busted him carrying nearly 14lbs of cocaine disguised as pastel Easter eggs. I think that's a different sort of candy.
Drug Trafficking is big business, and as you can see, there are very creative drug smugglers out there. I don't recommend it as a career choice. Don't do it, because if you get caught, you better have a good lawyer; Federal Drug Charges are no laughing matter. Call (508) 213-9113 an the experienced Federal Defense Lawyers of the Law Office of John L. Calcagni III.