License to Carry Appeals in Massachusetts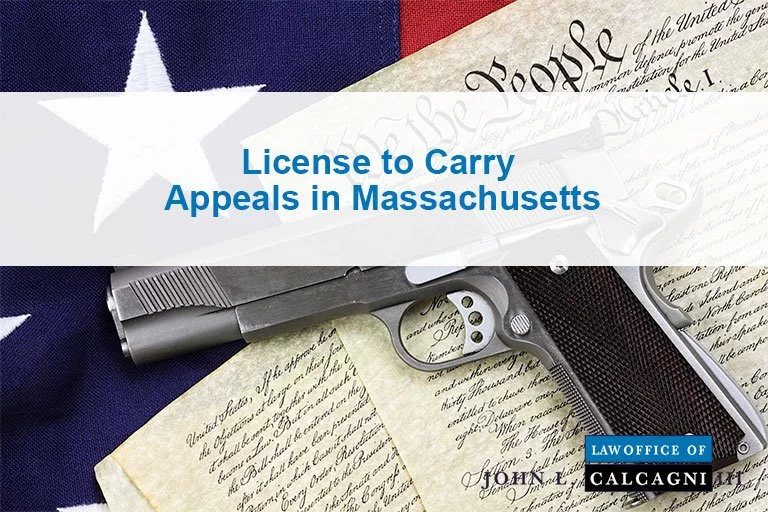 The Second Amendment to the United States Constitution provides the constitutional framework for American gun laws. The Second Amendment guarantees U.S. citizens the right to bear arms. However, there are limits to this privilege.
In Massachusetts, residents age 15 years or older, who wish to possess, carry, and transport firearms, ammunition, and feeding devices are required to have a firearms license. Firearms licenses are typically issued by municipal police departments, which have great discretion in determining who is licensed.
License to Carry (LTC)
Firearms licenses are categorized based upon the type of firearms one seeks to possess. A License to Carry (LTC) allows for the purchase, possession, transportation, and carrying of:
all large and non-large-capacity handguns,
rifles,
shotguns,
and feeding devices,
as well as ammunition.
This is the only license that will allow for the carrying of concealed handguns (whether loaded or unloaded).
Firearms Identification Card (FID)
A Firearms Identification Card (FID) permits the purchase, possession, and transportation of non-large-capacity rifles, shotguns, and ammunition.
A large-capacity firearm includes a semi-automatic handgun or rifle that can hold more than ten rounds, or a semi-automatic shotgun that is able to accept more than five shotgun shells.
It also includes an assault weapon. Although a firearms license is not needed to merely possess older long guns, such as a muzzle loading rifle or shotgun, a firearms license is needed to purchase any ammunition, including black powder.
Unless suspended or revoked, FIDs and LTCs are valid for a period of six years, before one must file an application for renewal.
Applying for an FID Card
In order to apply for a FID, an applicant must be age 18 or older (person age 14 -17 may apply with parental consent).
Under Massachusetts law a FID shall only be issued to those applicants who are not deemed a "prohibited person." To be considered a "prohibited person," the applicant must have been convicted of one of the specified crimes set forth within the statute.
Applying for an LTC Card
In order to apply for a LTC, an applicant must be age 21 or older. Under Massachusetts law the issuance of an LTC is subject to "such restrictions…the licensing authority deems proper."
Disqualifications
There are a number of disqualifiers that will prohibit a licensing authority from granting an LTC. Some of these disqualifications include, but are not limited to:
a felony conviction or a misdemeanor conviction,
if punishable by more than (2) years;
convictions for a crime of violence,
gun crime,
domestic violence,
or controlled substance violation;
any commitment to a hospital for mental illness,
alcohol or substance abuse etc.
Licensing Authority Has the Power to Deny
A licensing authority also has the power to deny a LTC applicant based upon his or her "suitability." There is no statutory definition of a "suitable person," but the standard is consistent with judicial recognition that the objective is to restrict "access to deadly weapons by irresponsible persons."
Typically, this means the licensing authority must have "reliable and credible information that the person has exhibited or engaged in behavior that suggests that, if issued a license, he may create a risk to public safety," or "existing factors that suggest that, if issued a license, the person may create a risk to public safety."
Although an applicant may be denied outright if any of the disqualifiers listed above apply, a denial based upon mere suitability is more subjective. While police chiefs do hold the power to exercise such discretion, a criminal defense attorney can assist you if police have overstepped their authority by denying an LTC based merely on "unsuitability."
What Can You Do If You Have Been Denied an LTC Card?
If you have been denied an LTC, or have received a suspension or revocation letter, you may appeal the police chief's decision in district court within 90 days of receiving such notice. An attorney can help you to prepare and file a petition for judicial review, which starts the appeals process. After that, you may have the opportunity for a trial before a judge, wherein you must show that the licensing authority's decision was "arbitrary and capricious." At the hearing, you can testify, call witnesses, present evidence, and cross-examine the chief.
If the district court judge upholds the licensing authority's decision, it is possible to appeal to the Superior Court, the Appeals Court, and then the Supreme Judicial Court. 
However, one's best chance of success is typically with the district court, so it is recommended that you hire an experienced attorney as soon as possible following denial, suspension, or revocation of your LTC.  Call the Massachusetts Gun Rights Defense Lawyers at the Law Office of John L. Calcagni III, Inc. today at (508) 213-9113 or Email for a free consultation.