The Role of The Probation Department in The Massachusetts Criminal Justice System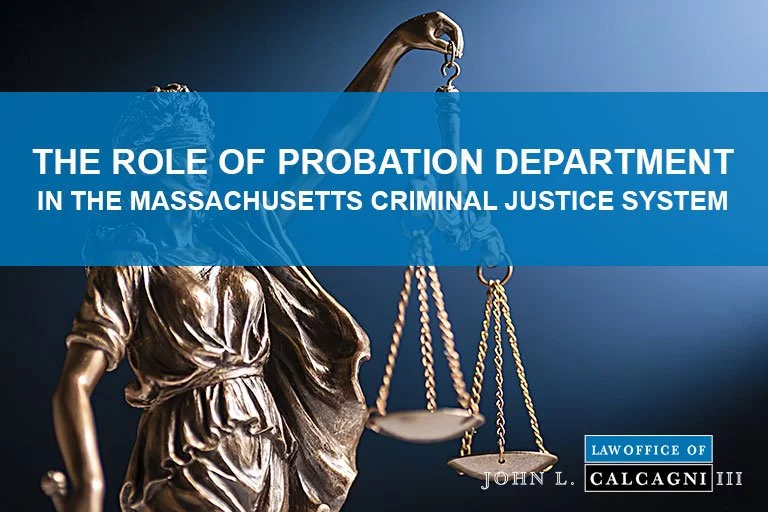 All criminal courts in the Commonwealth of Massachusetts have a probation department, which is formally referred to as the Massachusetts Probation Service. The Commissioner of Probation, and his office, oversee the Massachusetts Probation Service and the Office of the Community Corrections, which includes 105 probation departments and 18 community corrections centers, the Electronic Monitoring Center, and the Trial Court Community Service Program.
The Massachusetts Probation Service's main goal is to keep communities safe and to provide people on probation with the rehabilitative tools they need to live a productive and law-abiding life. The probation department is significantly intertwined with the Massachusetts criminal justice system. Probation officers working in criminal courts (Superior Court, Boston Municipal Court, District Court and Juvenile Court) supervise both pre-trial and post-disposition cases.
When entering any criminal courtroom in Massachusetts, whether it be for an arraignment, pretrial conference/hearing, motion hearing or trial, there is always a probation officer present.
The probation department's purpose is to assist the court and deal with criminal defendants who have violated conditions of probation. Probation officers assist the court by providing the lawyers and judges with copies of the defendants' criminal records and taking notes during dispositions that call for probation as a sentence so that the defendants may be properly enrolled in probation. The probation officers also conduct probation violation hearings for those alleged to have violated the terms and conditions of probation.
Outside of the courtroom, the probation department assists with regulating pretrial conditions of release and post-disposition conditions of probation.
This includes, but is not limited to:
drug testing;
monitoring a defendant's participation in a program;
ensuring that fines,
court costs and restitution are paid;
making sure the defendant completes his community service hours;
ensuring that the defendant is in compliance with a curfew,
or other restrictions placed on his freedom such as GPS monitoring, home confinement or staying away and having no contact with a person or place.
Probation also prepares and provides the court and attorneys with defendants' criminal histories for use during court proceedings.
Our firm has extensive experience working with probation departments throughout the Commonwealth of Massachusetts and will gladly help you. If you have been ordered by the Court to be subject to conditions of release or probation and/or may have violated your terms and conditions, contact Massachusetts Criminal Defense Lawyer, John L. Calcagni III, Inc. today for a free consultation (401) 351-5100.