Modifying Conditions of Bail in Massachusetts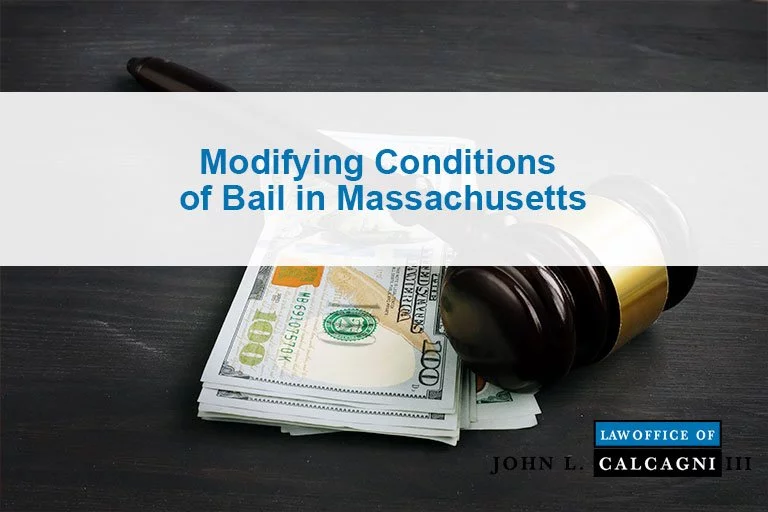 In the Massachusetts criminal justice system, there is a legal presumption that a criminal defendant will be released on personal recognizance (his or her promise to return to court).  However, the Court may use its discretion to impose bail.  At the arraignment, the judge will address this issue of bail.  Bail may take the form of cash and/or conditions.  Once the Court orders sets cash bail and/or conditions of release, these conditions remain in force and effect throughout the pendency of the defendant's case or until the prosecution or defense can demonstrate a change in circumstances to justify a change in bail, either to increase or lower the cash bail imposed or to alleviate or impose certain conditions of release.
Why a court will order conditions of release?
There are several reasons why a court will order conditions of release, to include, but not limited to:
to ensure the defendant will appear before the court as instructed to face prosecution;
to regulate the defendant's behavior because the court believes that he or she is likely to commit another crime or engage in behavior likely to cause harm to him/herself;
to protect a named victim in the case or other members in the community, and to prevent the defendant from placing him/herself in a position that will result in pretrial incarceration.  
Why criminal defendants seek to change terms and conditions of bail?
Criminal defendants often seek to modify terms and conditions of bail for various reasons while a case is pending.  This is a reoccurring theme especially with defendants who are subject to restrictive non-monetary conditions such as GPS monitoring, home confinement and/or a curfew, or unaffordable cash bail. 
How to modify bail?
To modify bail, the defendant must seek the permission of the Court by filing a written motion. To be successful, the motion must cite a change in circumstances, supported by information not previously known or presented to the Court at the time when bail was originally set.  
Modification of cash bail
To justify a modification of cash bail, the defendant must establish the unaffordability of the financial amount initially set by the Court. 
Modifications in non-monetary conditions
To justify a change in non-monetary conditions, examples of a change in circumstances include prospective employment opportunities, changes in current employment, prospective educational opportunities, medical conditions, changes regarding current enrollment in an educational program, or a defendant's ability to parent children and/or assist them with participating in educational or extracurricular activities. 
Why would the Commonwealth modify the defendant's bail? 
The Commonwealth may also move to modify a defendant's bail for reasons to include the defendant's failure to appear for a hearing or trial; the filing of new charges; violations of curfews, existing conditions of release, or restraining order; failure of court-ordered drug and/or alcohol screens; or violation a no contact and/or stay-away orders.
Other circumstances for bail modification
Another good example of a change in circumstances that forms the basis for a modification of bail is a change in charges, such as dismissal or adding of charges, or changes in the evidence, such as the loss or destruction of physical evidence. 
Real Bail Modification Example
Recently, our office represented a client who was originally charged with multiple felony firearm offenses and trafficking in over 200 grams of heroin.  During the discovery phase of his case, the Commonwealth received the drug certification from the laboratory confirming that the suspected heroin was an innocuous cutting agent opposed to a controlled substance.  The Commonwealth was also unable to locate the firearm, which it believed was being held as evidence.  These changes in the status of the Commonwealth's evidence led to the dismiss these very serious charges. We moved to modify the client's bail to remove conditions of GPS monitoring and the curfew previously imposed.  The Court granted the motion.
If you have a criminal case that is pending in either District or Superior Court in Massachusetts and believe there has been a change in circumstances that warrants a modification to your bail, contact Massachusetts Criminal Defense Attorney John L. Calcagni III and his team today for a free consultation at (508) 213-9113 or send us a message.