Pre-Trial Diversion in Massachusetts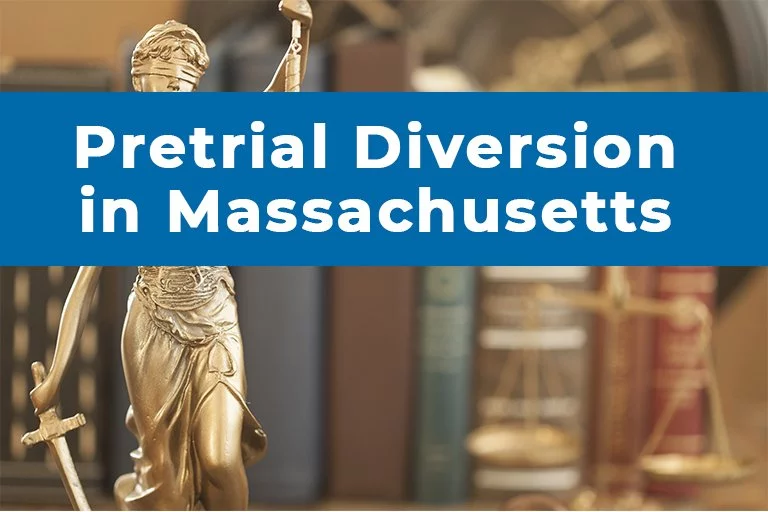 Those charged with a crime in Massachusetts face the possibility of fines, probation, or imprisonment, or a combination of each. However, in certain instances, a case can be disposed of with pre-trial diversion.
Those who are eligible for pre-trial diversion will be able to avoid traditional prosecution in the criminal justice system by participating in a program aimed at self-improvement, or improvement of the community. Following a recently enacted criminal justice reform bill, Massachusetts has expanded the eligibility requirements for its pre-trial diversion programs.
Who Qualifies for Pre-Trial Diversion
Defendants of any age are now eligible for pre-trial diversion. Military veterans, active or reserve military service members, those with substance use disorders, and mental illness may also qualify for these programs. Eligibility requirements include:
Defendants who have had no criminal convictions since turning age 18;
Defendants without pending criminal cases or outstanding warrants;
Defendants who are charged with a crime punishable by imprisonment over which the District Court has final jurisdiction; and
Defendants who have a received a program's recommendation that he or she would benefit from participation.
A criminal defense attorney with experience in securing pre-trial diversion will recognize good candidates for this disposition. Factors that may be considered include academic performance, participation in the community, employment history, military history, substance abuse and/or mental health history, family history, involvement in extracurricular activities, and more.
Additionally, judges are required to consider the recommendation of any victim[1] regarding the diversion of the defendant, and also to provide an opportunity for a recommendation by the prosecution. Judges are not required to accept these recommendations and they are not binding. The Court has discretion and final authority. However, the law prohibits a police department or district attorney from accepting an offender into a program that is under their control.
Offenses Ineligible for Pre-Trial Diversion
Anyone charged with one of the following crimes is ineligible for pre-trial diversion program:
Any offense under MGL Chapter 265 (Crimes Against the Person), with the exception of Assault & Battery (MGL c 265 section 13A(a))
Any offense under MGL Chapter 119 (Protection and Care of Children)
Any offense under MGL Chapter 268A (Conduct of Public Officials and Employees)
Any offense for which there is a mandatory minimum term of incarceration or which may not be continued without a finding or placed on file
Any offense which is ineligible for decriminalization pursuant to MGL Chapter 277 section 70C, with the exception of Assault & Battery
Types of Pre-Trial Diversion Programs
An eligible defendant can be diverted to any program of community supervision and services including, but not limited to, educational, medical, social, vocational, substance use disorder treatment and psychological services. In addition, the court considers corrective and prevention guidance, training, performance of community service work, and counseling. There is also a provision that allows for residence in a halfway house or other suitable placement.
Benefits of Pre-Trial Diversion
Pre-trial diversion is an alternative to prosecution, which allows participants to avoid traditional prosecution in the criminal justice. Perhaps most significantly, a pre-trial division disposition prevents any entry on a person's criminal record because it must be requested prior to arraignment. Successful completion of the program also results in a dismissal of charges.
When to Request Pre-Trial Diversion
Pre-trial diversion should be requested prior to arraignment, which is a defendant's first appearance in court. If a defendant qualifies for pre-trial diversion, the arraignment may be continued for a period of two weeks so that an assessment may be completed to determine whether the defendant would benefit from a program. In the event that a defendant initially fails to meet the eligibility qualifications, the court may also, in its discretion and in consideration of the prosecution's opinion, grant a two-week continuance to afford the parties time to further explore a defendant's eligibility. Therefore, it is important to have an experienced criminal defense attorney at the earliest stage of a case, as pre-trial diversion is not available after arraignment. If you have received a summons for an arraignment, it is critical that you retain a criminal lawyer as soon as possible. Even if you are ineligible for pre-trial diversion, having a skilled defense attorney representing you at the inception of your case will help to ensure that your rights are protected at every step of this process.
If you've been charged with a crime in Massachusetts and/or wish to explore eligibility to participate in a Pre-Trial Diversion Program, contact Massachusetts Law Offices of John L. Calcagni III, Inc today at (508) 213-9113 for a free consultation.
---
[1] As defined in section 1 of chapter 258B